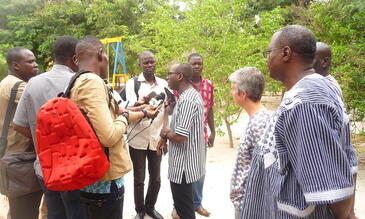 MiRA at PAMCA, October 2017
Between October 16th-18th, the 4th Annual Conference of the Pan-African Malaria Control Association (PAMCA) took place in Ouagadougou, Burkina Faso, under the chief theme "From the field to the Bench & Back: Progress towards malaria elimination & control of other vector borne diseases'. Hosted by the Institut de Recherche and Sciences de la Santé (IRSS), part of the National Centre of Scientific and Technological Research (CNRST), the event saw the participation of over 200 delegates from the African continent, as a notable participation of researchers from the US, the UK, Brazil and Italy.
At the presence of the Government authorities, the conference unfolded through several Plenary and Scientific Sessions, Posters, and final Turbo Talk presentations, addressing a variety of topics on Vector Control. Among these, insecticide resistance, host-pathogen interaction, and gene drive were certainly the foci of most research attention.
MIRA partners were represented by the National Centre for Research and Training on Malaria (CNRFP, BF) and the Liverpool School of Tropical Medicine (LSTM, UK), bringing together our entomologists and social scientists. Entomological data from Work Package 2 were presented by Dr Hyacinthe Toé (CNRFP), who discussed his latest findings on the effect of PBO nets on Anopheles Gambiae s.l. resistant to pyrethroids. A following poster session saw Ms Natalie Lissenden's (LSTM) work on longevity among Anopheles Gambiae s.s. exposed to LLINs, and Mr Antoine Sanou's (University of Glasgow, UK; CNRFP) preliminary findings on vector populations behaviour in the province of Banfora. Dr Moussa Guelbeogo (CNRFP) was expected to lead the conversation on dengue vectors during one of the Plenary Sessions, but an episode of dengue fever kept him from joining the conference as a speaker. As he is now back in good health, we salute his abnegation to the cause.
The Work Package 3 team, which investigates social aspects of vector control strategies, was represented by Dr Lea Paré Toé (IRSS, BF), Adama Traoré (CNRFP), and myself, Dr Federica Guglielmo (LSTM). Together with Dr Paré Toé, I had the honour to chair the Social Sciences Session, where researchers debated their findings on the aspects related to community engagement (particularly in Kenya, Cameroon, and Tanzania) and on the social factors affecting implementation programmes. Adama Traoré's current investigation in local health centres was displayed during one of the poster sessions, whereas I had the opportunity to give a brief introduction to my findings on exposure to mosquito bites in rural settings the following day in one of the Turbo Talk.
As the conference closed with a call to strengthen African educational systems, as well as existing partnerships, we surely look forward seizing the opportunity to discuss broader datasets next year in Harare (ZI), where the next PAMCA meeting is going to take place.